The Process of Building Websites
What the website building process looks like depends on several factors:
whether the design and functionality will be template-based or custom,
if template-based, whether we will use our own template or one from an external source,
whether we will be creating a completely new website from scratch or whether there is one with a design and/or structure and functionality that we will copy,
whether it is just a migration (e.g. from another content management system to Drupal), and we will copy the exact structure and design.
Creating an "Easy Build" Website
The simplest solution we offer is the Easy Build website package.
Easy Build websites are not only extremely quickly delivered (in as little as two days) due to their pre-designed structure and our own template, but the workflow itself is extremely simple:
you submit the order form, specifying the colors and fonts you want to use,
we deliver the website in a few days, ready for you to upload your content.

Creating a "Flexible Build" Website
Websites with page builder functionality can also be based on our own template. For Flexi Build websites, the workflow is as follows:
you decide what layout elements you want to use on your website,
you specify the colors and fonts you want to use,
and we'll deliver the website to you shortly, ready for you to upload your content.

Custom Web Development Workflow
Websites with a custom structure, functionality and/or design are usually built in 3 main steps. 
1. Planning
If you don't have a website at all, the first thing for us to do is to get to know the content you want to display on your site, the required functionalities, features and your needs in general.
After assessing your needs, we will design or help you design how your site will be built, based on the content available and the features you want.
As the first stage of the design process, we often create a wireframe like the one below, to illustrate how the pages will be structured and how the pages will be connected on the new or redesigned site: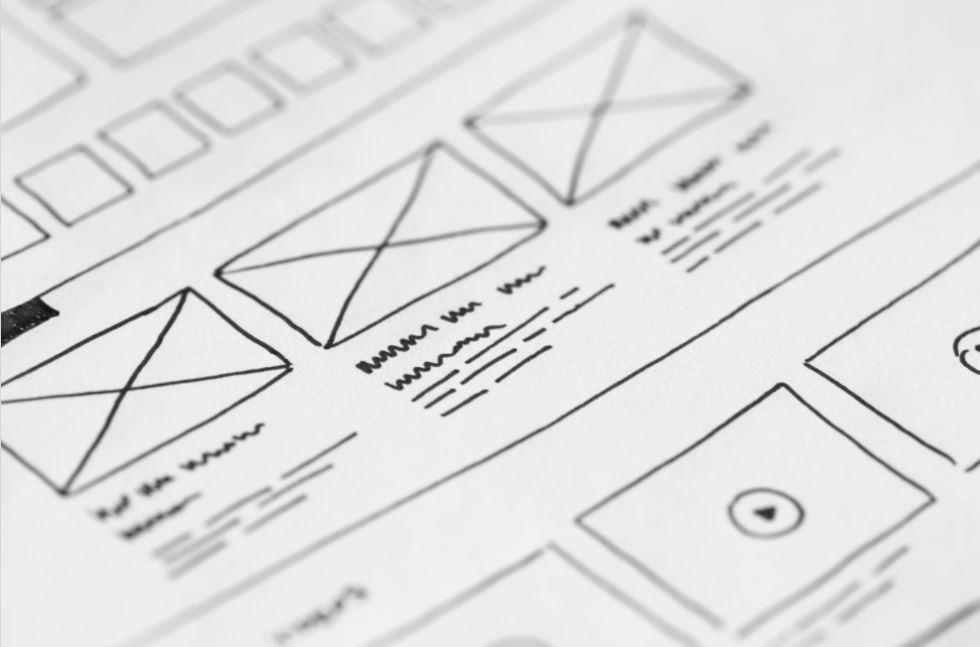 If you already have a website and you are happy with the current structure and functionality, but just want to have the graphic design updated, this first step is skipped.
2. Web design and branding
If you are having a completely new website built, or your graphic design is (also) affected by a redesign, you can choose a ready-to-use template that we purchase for you or we can create a custom graphic design, based on the wireframe created in the first step. 
If you want to keep the design of your current design, we can also copy and use it on your new site. For example, if you just want to switch to Drupal CMS or from an earlier version to Drupal 9, but want to keep the look of your website, the graphic design or template selection step is skipped.
3. Building the website: web development
In this phase, the design is being turned into an actual website. 
The website will be accessible with a password, at a temporary address, so the general public will not have access to it during the development, but you will be able to monitor its progress. 
During the development and testing phase, we host the site on our own server, but we also offer a reliable solution for the final web hosting. Maintenance is also smoother and cheaper when we provide the hosting for the live site!