E-commerce Websites and Prices
E-commerce websites — also known as online stores or webshops — are websites where visitors can buy products or services.
On an e-commerce site, customers can browse products, add them to a shopping cart and then choose one or more payment methods to pay for the contents of the cart. The products are then delivered to them or the services are made available to them.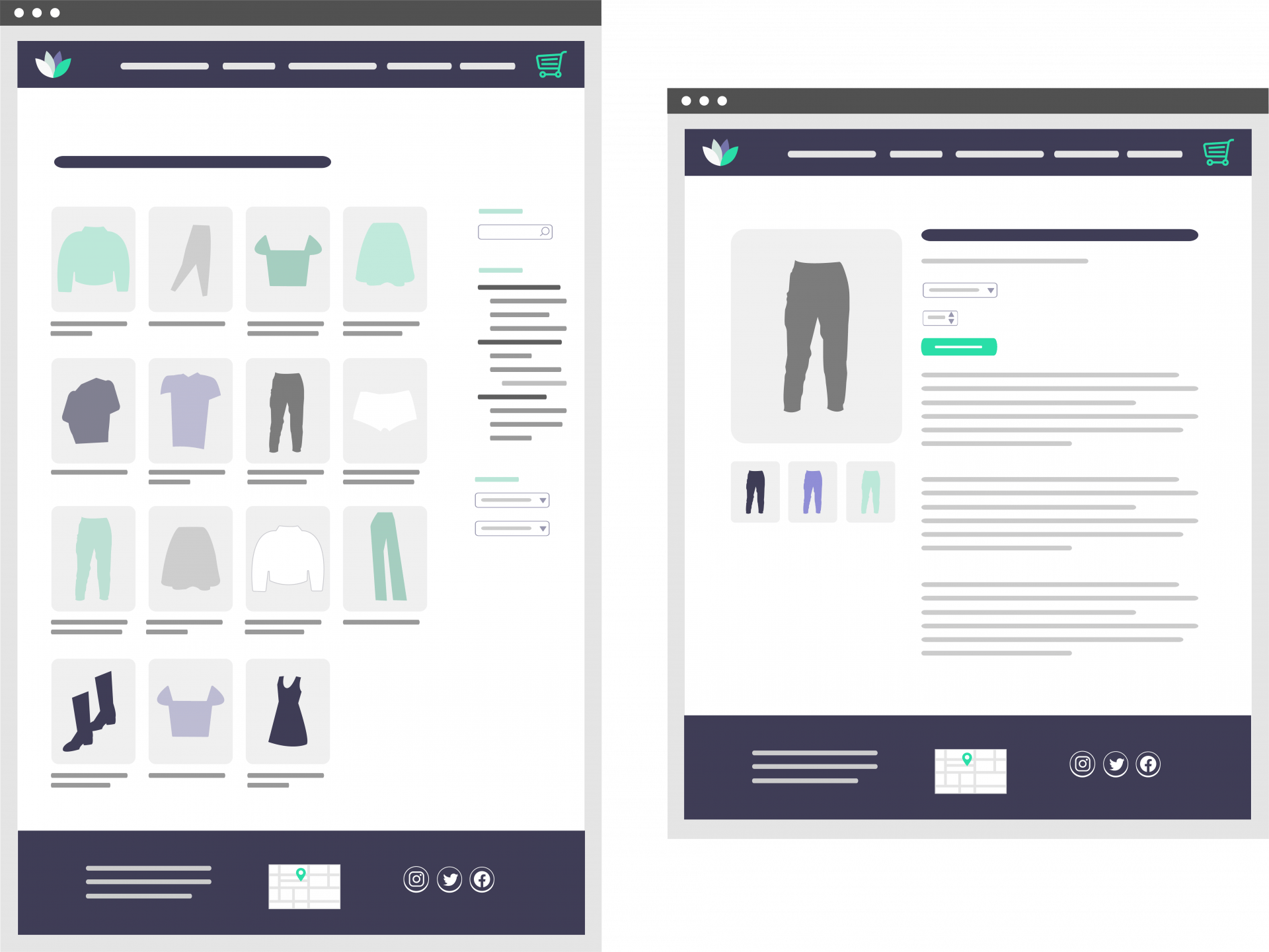 Features of Our Standard E-Commerce Website
We designed a fixed-price e-commerce site with the most frequently used, essential features to meet the needs of a start-up business at an affordable price.
We've also made sure that your standard e-commerce store doesn't fall short when it comes to SEO!
Uploading Products
Any  number of products can be uploaded (however, with the default ecommerce package, performance is guaranteed for up to 1000 products).
Product descriptions can be added to product pages.
Any number of product images can be added to each product.
You can create product variations based on names. For example, you can add variations called "Blue table" and "Yellow table" to the product "Table", or even "Yellow table, 120×140 cm", etc.
Product categories: Products can be organized into categories and you can create a hierarchical organization of categories. Visitors can find the categories in the sidebar.
Prices: you can choose whether you want to enter the gross price, or the net price and have the system calculate the VAT. Default ecommerce package comes with one VAT rate.
Purchase
Sorting products: by default, products are ordered randomly. Users can sort products by name and/or price in ascending and descending order.
Search products: a search box allows users to search for products by name.
Cart: visitors can add products to cart and view the items in the cart on a separate page. They can remove items from the cart one by one, and they can modify the quantity to be purchased within the cart. The cart shows the net and gross price.
Checkout
One urrency, eg. EUR or USD.
Payment method: PayPal.
Checkout as guest: users must provide their shipping and billing information at checkout.
After checkout, the user will receive a confirmation email (not an invoice!).
Shipping Rates
2 types of flat shipping rates can be set. For example, you can set one rate for postal delivery and one for GLS delivery. You can also offer in-store pickup.
Standard Ecommerce Store Pricing:
1,599 EUR + VAT
Custom e-commerce development
If you're not sure you want a custom developed webshop right away — which is time-consuming to design and more expensive to develop — you can start with our standard online store and add any functionality you want later.
Ecommerce stores can have many other features besides the standard functionality.
Your business goals and strategy determine which of these you need.
Feature ideas for custom e-commerce sites
Here are a few examples of other features that can be added to your online store to make marketing more effective and the user experience more enjoyable:
 Registration for visitors 
If visitors can register, they can create a user profile where they can save their shipping and billing details. This way they don't have to fill them in again the next time they make a purchase.
They can also view their previous orders in their profile.
Registration can be done before or after a purchase, or both options can be available to visitors and customers.
 Add any product variation 
Depending on the products sold, it may be practical to add different product variations. 
Product variations can be created e.g. by size, colour, flavour, width, height, power, capacity, origin, etc.
 Integration of third party systems 
It makes the work of the e-commerce store owner or the content manager easier if, for example an invoicing service, a logistics system or a wholesaler system is integrated into the online store.
You may also need dynamic content, real-time updates, for example through API integration.
 Stock management 
For some online stores, automatic stock management can come in handy, or the option to update the product stock by importing a spreadsheet (e.g. XLS, CSV).
 Multilingual online stores 
Multilingual online stores reach a wider audience of customers.
Typically, online stores that are multilingual or target audiences in several geographical regions need:
the use of multiple currencies and
multiple VAT rates.
 Coupons, gift cards, loyalty programs 
Visitors can buy gift cards for themselves or for others, or, for example, collect points on purchases that can be redeemed later, or use coupons in promotions.
 Product filters 
Visitors can filter the product list by different product parameters or characteristics (e.g. size, colour, flavour, width, height, power, capacity, origin or any other criteria).
 Page builder functionality 
Product pages can also be built with a custom layout, just like the pages on Flexi Build sites.
This can be particularly useful when you want to create custom landing pages, for example for marketing campaigns or promotions.
 Product ratings and reviews 
Customers have the option to post a review on the product page with a score, with text, or both. In other words, they can provide feedback on the product or service they have ordered via the site, which can be viewed by other visitors.
 Create wish lists 
Visitors can add products that they would like to buy later to their wish list.
 Product comparison 
Visitors can compare the parameters, features, price, etc. of any two products in the online store.
 Chat support 
Visitors and customers can ask for help via live chat directly on the website if they have questions about the products, services, delivery, etc.
 Customizable, personalized products 
Customers can create and buy personalized products. For example, this could be a mug, a piece of clothing etc. with a unique pattern, picture, or text.
 Subscription based services 
Customers can subscribe to products or services that they receive on a regular basis. Payment, billing and delivery can also be automated.
 Create affiliate programs 
E-commerce stores can allow partners to join them, promote the store and receive a commission on the orders and sales they bring in.
 Collect customer feedback 
The online store can automatically send customers an evaluation questionnaire after purchase. Based on the feedbacks collected, the shop owner can easily decide which direction to take when it comes to renewing the online store or how to change or extend its functionality.
 Manage abandoned carts 
Sometimes a visitor browses the website, adds products to their shopping cart, and for some reason leaves the site without making a purchase. In such cases, it can be useful if there is an automated e-mail to remind them of the abandoned cart.
 ...or anything else! 
Custom E-commerce Development Pricing
We can give you a quote for custom development if we know the features you want for your online store and your design requirements.
Contact us for a quote!